DeWOLFF
PSYCHEDELIC BLUES ROCK (NL)
DeWolff are a psychedelic rock band from the Netherlands' deep south, formed in 2007 by brothers Pablo & Luka van de Poel and Robin Piso. When their psychedelic yet hard rocking, self-titled EP was released in 2008 it immediately conquered the hearts of rock music lovers all across the country and in December 2008 the band played their first show at Paradiso, a legendary venue in Amsterdam. The release of their 2009 debut album "Strange Fruits and Undiscovered Plants" was followed by a successful tour through the Netherlands and Germany. In 2010, then still aged 15, 18 and 19, DeWolff played in front of an audience of 10,000 at Europe's oldest music festival Pinkpop.
DeWolff's live reputation grew bigger and bigger and their highly energetic concerts, which by now had lead them to France, Switzerland, Italy, Spain and even Australia, proved DeWolff to be one of the best and wildest live bands in their league. 
In search of the sexy Southern swagger to be heard on those old Southern Rock and soul records that by now had become a great influence on DeWolff's new material, the band travelled to Valdosta, Georgia in early 2014 to record their next album with Grammy award-winning producer Mark Neill. The resulting album GRAND SOUTHERN ELECTRIC sounds like a classic: this album shows a perfect blend of great songwriting and next level riffery on a foundation of some of the grooviest drum grooves known to man and topped by a great vocal performance reminiscent of Leon Russell in his early days. The Grand Southern Electric tour will doubtlessly lead these three wolf men to your town, so make absolutely sure not to miss it!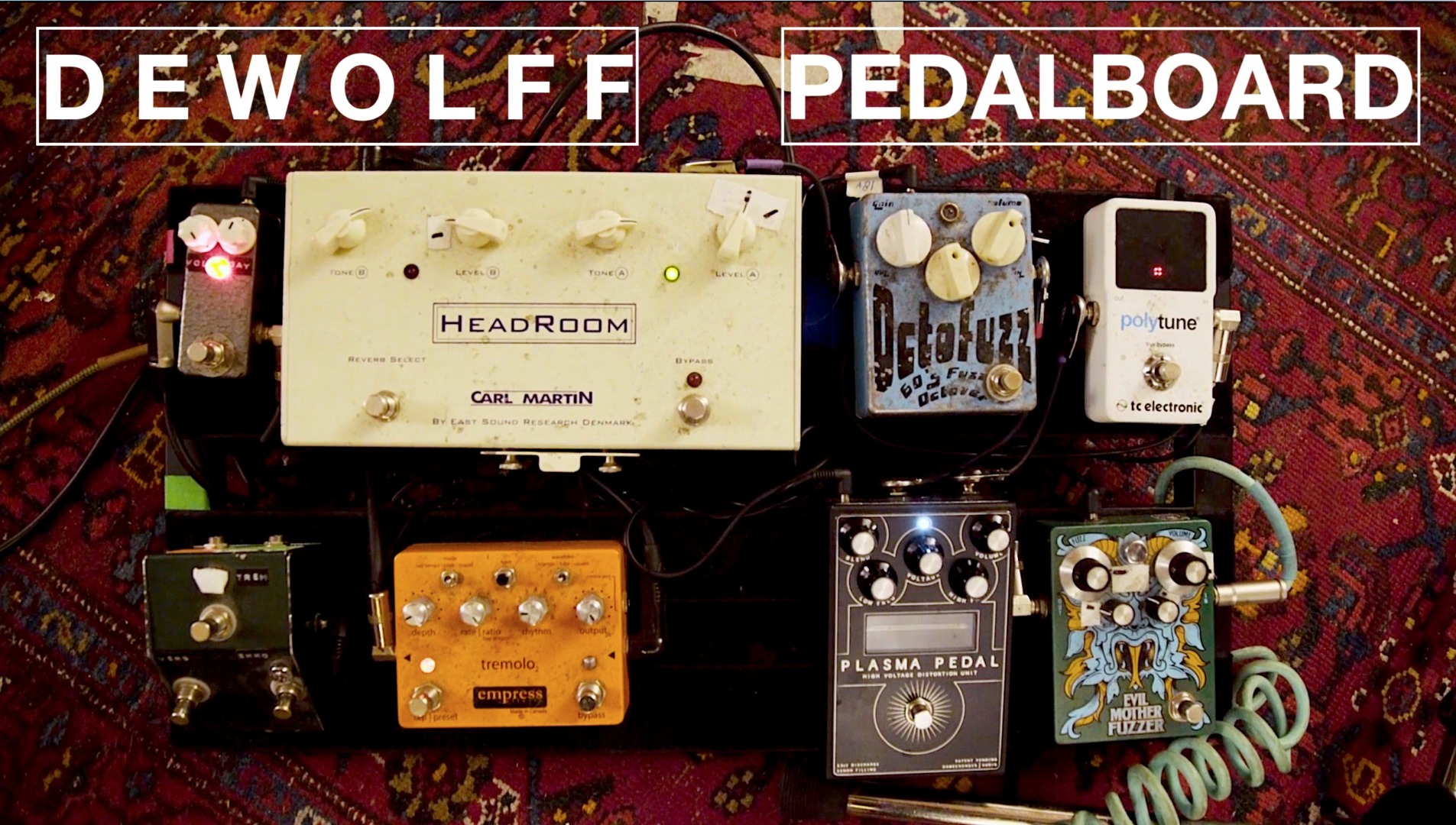 Welcome to the future! Yeah, it's called PLASMA baby. It's fuel for rock n roll.
GUITAR:
2014 Gibson Custom Shop 20th anniversary 1963 Firebird VII
PEDALS:
Evil Mother Fuzzer by DR.NO
Octafuzz by DR. NO
PLASMA Pedal by Gamechanger Audio
Tremolo2 by Empress
HEADROOM Spring Reverb by Carl Martin
PimPedals EP Booster
Tube Tape Echo by Fulltone
AMP:
Marshall 1973x